Blockchain Safe- Baby Capsule.
22 Jul 2019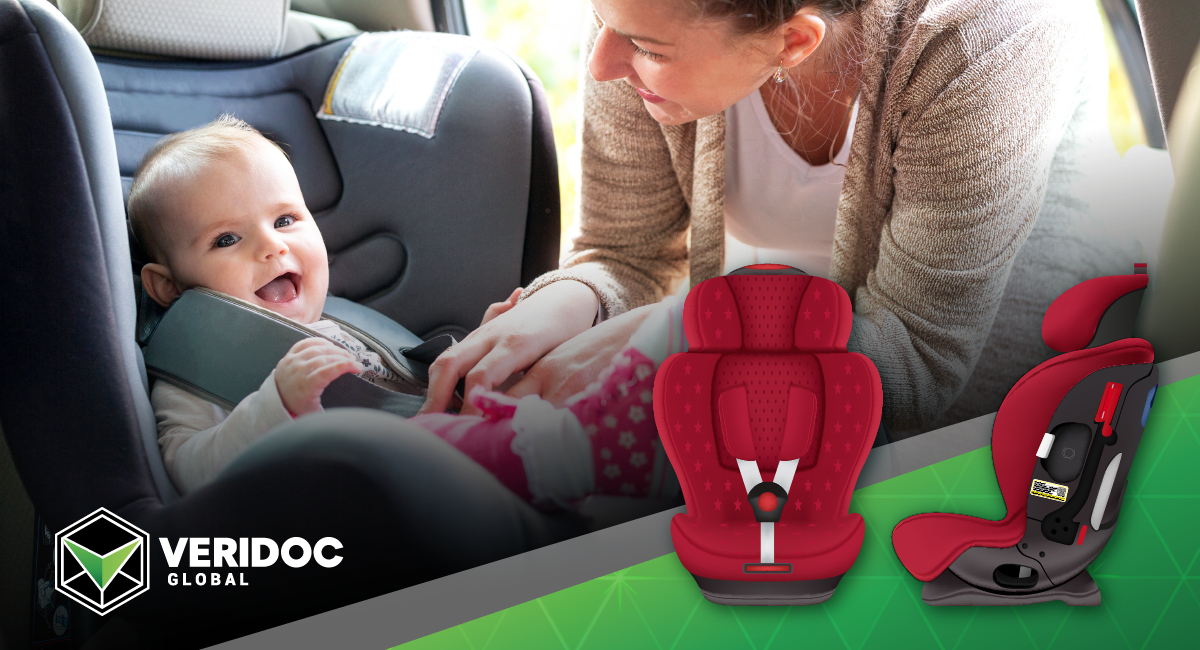 When one becomes a parent everything, we do from then on is to protect and care for that child, constantly watching their every move to keep them alive for when the time comes for them to care for themselves. A lot of this entails making sure they have the right toys, education, and food to keep them happy and healthy but most of all keeping them physically unharmed is always our main concern.
For this, extensive research goes into the items we purchase for our children making sure our houses are baby-proofed, the toys are big enough to prevent choking, batteries are not accessible for swallowing, the list of what could go wrong is endless but the very last thing one expects to find when purchasing decent baby products are counterfeit and unsafe baby capsules.
The idea that my child could be at risk of harm from the very thing designed to keep them safe in an accident is terrifying. Counterfeit and unapproved baby seats are identical to the genuine products and sold alongside all the other options, not only would I have absolutely no idea which one to buy but I wouldn't know I had purchased the wrong one until it was too late.
As shown in an article from Mamamia.
Earlier this year, several parents in the US were shocked when they tried to take their babies home from the hospital when staff identified their capsules as dangerous, missing important safety architecture like chest clips. They were later revealed to be low-quality and incapable of protecting a baby in an impact.
The story went on to explain that the risk is even greater when trying to purchase online, stating that if the deal is too good to be true, it probably is. Although it is the law to have a child safely fastened within a capsule or car seat, the law states time and time again that they must be approved capsules differing in age and height, so what is an approved capsule and how do we know we have purchased one? Well, the answer is, you probably didn't.
Knowing you have bought the right capsule is incredibly difficult, looking through the many different options available, all go on to list their "amazing features' but none state they are approved, which is beyond concerning seeing as it is the law to purchase an approved capsule and should be clearly stated as a feature. Unfortunately, the market is flooded with counterfeit, unapproved, unsafe capsules and so far, nothing has been done about it.
There are many tips and tricks available to avoid buying counterfeit car seats, like buying directly from the brands website rather than a store or its suggested we purchase them from an 'authorised' retailer who deals only in genuine parts, but again how do we know they are authorized, wouldn't it be much simpler and safer to increase the technological security around the items in question?
The technological advances in this day and age are already available and ready to use, why am I still struggling to find the right car seat?
The solution for QR Codes available by Veridoc Global is genuinely the answer to all our concerns. Their QR code blockchain solution involves embedding a QR code on an item with a unique digital hash inside the QR code. The hash holds a string of information that is then placed on the blockchain network for security, verification, and more importantly end-user validation.
Try it now with the image above. Download the free VeriDoc Global App from the Play or App store now. Scan the QR code in the image and try out the technology today using any smartphone.
By using a QR code reading app on any smartphone, customers can scan the QR code on the capsule, and receive the necessary information and in this case make absolutely certain you have the right product. It can also add time and location stamps along with any additional information such as batch numbers for product recalls, crash test information, testimonials, installation videos, or what seems to be the very elusive 'approval' that the law states we must have.
Parents have enough to deal with on a daily, it should not be this hard to keep our children safe, and since they will not stop selling counterfeit copies, there really doesn't seem to be any other option other than to get with the times and go digital.
All of this long and tedious researching and you're still likely to end up with the wrong product anyway. All of it would be eliminated just by getting out our smartphone and scanning the baby seat we want to purchase, the very idea is a weight lifted off my shoulders.
With this technology introduced into retailers of all genuine brands, parents could rest easy knowing their children were safe from harm with products they trust.
This article was written by Reneé K and originally posted to Medium. To learn more about VeriDoc Global's software and how it can be of benefit to you or your family, please visit the website at www.veridocglobal.com