INTRODUCTION TO
HEALTH CARD
Medical care is diferent the world over but what if the way we tracked and stored the data was the same. When a patient goes to his doctor or hospital, the assigned medical staff scan the QR Code on their Health Care card and this then gives the medical staff access to the medical history on that patient. No matter where you are in the world, as long as you have a smartphone you could get access to the data with permission.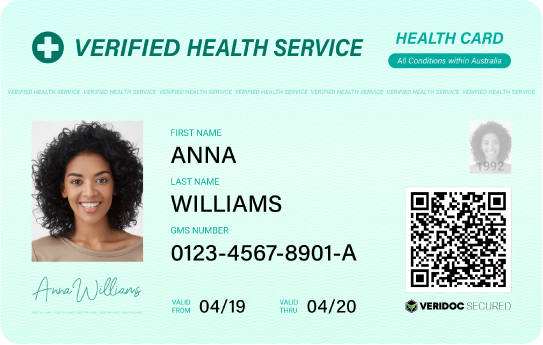 HOW DOES THE
SOLUTION WORK

VeriDoc Global delivers a blockchain solution that was developed to integrate with existing databases, using Distributed Ledger Technology, (DLT) delivering a single source, end to end verification and authenticity system associated with personal health care identities, the diagnostics and vaccine data management of patients worldwide.
Medical staff can also add images and medical data along with reports in real-time to the patients' history on the blockchain network.
WHY IS THIS
GOOD FOR YOU?
Security is paramount, with all data and records stored on the data systems of the relevant health organizations and relevant authorities using the VeriDoc Global Secured Solution. It speeds up time and removes roadblocks that are involved with tracking and getting access to important sometimes life-altering information.