INTRODUCTION TO
CREDIT REPORT
Technology has become an enormous part of the banking world, and has changed the way people bank making the ability to bank more convenient, but also opening the door for more discrepancies. With VeriDoc Global technology and it's use of blockchain applications we are able to better secure and have more trust in your lenders. Let's look at a Credit Report.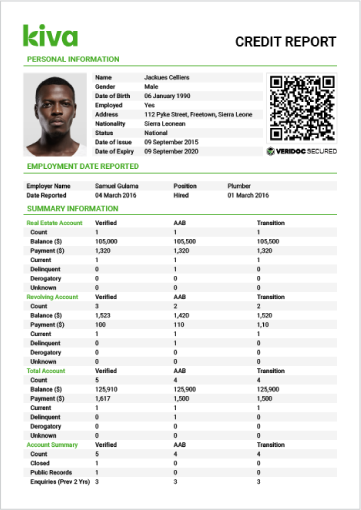 HOW DOES THE
SOLUTION WORK

VeriDoc Global solution allows all the information you could possibly need permanently logged to that particular loan or application. Tracking, traceability for the life of the loan or application.
The same technology currently in use and accomplished for fraud prevention and its many successes could also be applied to the banking industry. VeriDoc Global's reliable proven patented solution.
WHY IS THIS
GOOD FOR YOU?
Blockchain naturally connects all parties on a system, so the customer would be linked directly to the lending institution, with full transparency and a real-time view of finances on an immutable ledger. Savings costs and time on both sides. The technology is already available and ready to go.