INTRODUCTION TO
CHOLESTEROL HEALTH MANAGER
VeriDoc Global has developed a finished solution that can help those who have high cholesterol, and for those who administer the treatment. A way to quickly and easily find out if the cholesterol drugs you purchased is not only the original product, but also safe and hasn't been recalled. All by just scanning the QR code on the packet using your smartphone.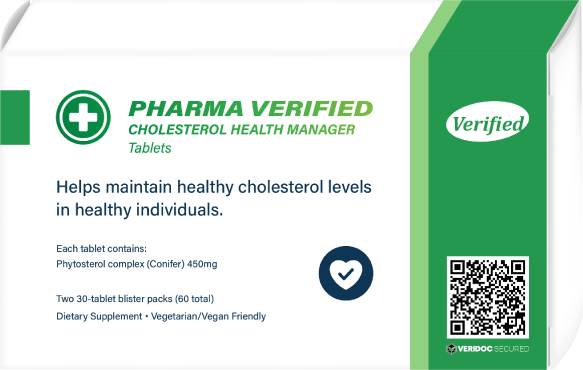 HOW DOES THE
SOLUTION WORK

Using any QR code reading app, scan the QR code on the Cholesterol Health Manager packet and the app will show you the true document produced by the issuer with all the information you could need.
Including batch numbers, drug strength, date produced and recall status. It's a way to make things accessible and all in one place. Anyone with a smartphone can access it quickly and for free.
WHY IS THIS
GOOD FOR YOU?
The more power you have to help those you love and treat conditions, the better the outcome for all involved and anything that makes those tasks easier has to be a good thing and blockchain can be the next step in making that happen. This solution can provide useful and life-saving information while also providing a quick and easy way to check if the product is real.