INTRODUCTION TO
VERIFIED RIDE DRIVER CHECK
Ridesharing is a fast, effective and inexpensive solution to what was previously accepted. Transforming industries that had long stuck to the same model. We thrust ourselves into a world of rideshare and ride apps knowing full, well many of us were getting into cars with strangers. At first, the novelty and extraordinary conveniences outshone the very potential threat one has when stepping into a car with someone who the company never actually meets or interviews for such a position. What if we could do something about that risk?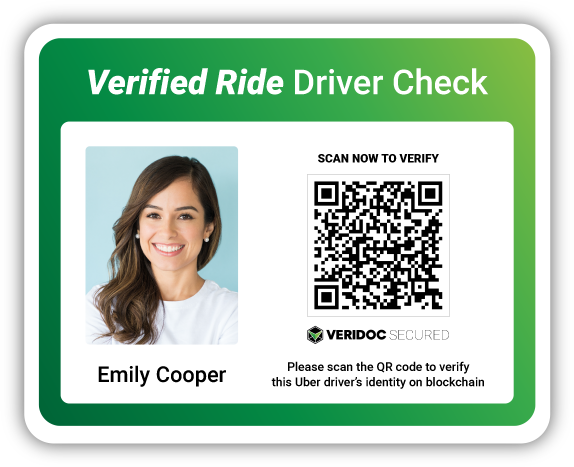 HOW DOES THE
SOLUTION WORK

VeriDoc Global has a Finished Blockchain Solution that eliminates the very real threat from offenders. The blockchain developed solution proudly ensures that every ride-sharing passenger can detect whether the driver is either the real deal or a fake.
And you can do it even before you get in the vehicle, by scanning or tapping on a QR code. The solution addresses the big concerns surrounding the security issues of personal data and keeping people safe.
WHY IS THIS
GOOD FOR YOU?
With such advanced and revolutionary technology protecting and securing us all, ride shares can relax knowing the public has received exactly what they expect. Security and the knowledge you are getting into a vehicle with the person they say they are. Blockchain and security, with transparent trust and knowledge.