INTRODUCTION TO
SUSTAINABLE ARTISAN LOAF
VeriDoc Global is able to run you through the track and trace of a sustainable loaf of artisan bread. Each point recorded in it's travel, right up to where you would buy it from the store. Blockchain application and development mixed with ease of use. Because if you are buying an Artisan Loaf, you want to know it's the real thing.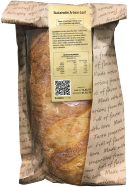 HOW DOES THE
SOLUTION WORK

VeriDoc Global's finished solution gives all parties involved access to data across the entirety of the supply chain. This data enables a complete analysis of the supply chain for all involved. For the consumers, the VeriDoc Global app provides unprecedented levels of transparency around origin and quality.
The solution trengthens traceability to meet with increasing consumer demand for provenance information, and with a scan of the QR code using any smartphone or scanner.
WHY IS THIS
GOOD FOR YOU?
If you scan the VeriDoc Global QR on a product you will see product information along with the ability to see where your food was grown and where your Artisan Loaf was made. Right down to transportation and arrival of goods along the supply chain and you could know for sure what you were buying was true without a question.