INTRODUCTION TO
EMPLOYEE ID CARD
Quite a few of us have worked somewhere that has required an Employee ID Card. The difference here is that combined with blockchain technology and application we are able to improve upon what has always been there. The finished solution which is blockchain software-based focuses on security and data integrity. Which is good for both the Employee and Employer.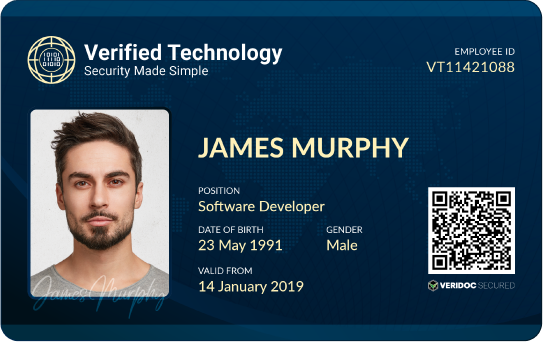 HOW DOES THE
SOLUTION WORK

VeriDoc Global uses a unique digital hash that is stored on the QR code. When a QR reader or any smartphone is used to scan the QR code, the system looks at the unique hash and then checks the hash on the blockchain. With Change of State technology (CoS) whenever an employee signed in and the ID was scanned there would be a record of it added to the blockchain and timestamped.
The software then verifies that the hash exists on the blockchain and displays the original document, that is linked to the hash. Along with all the times, the ID was scanned and used, making it perfect for accounting, attendance, and HR.
WHY IS THIS
GOOD FOR YOU?
This stops fraud because blockchain technology prevents the data and the QR code from ever being changed or removed, and you can check it yourself with any smartphone almost instantly. It removes any doubt about time worked, for both the employee and employer and only requires a QR code and VeriDoc Global's software to make it happen. It's security, data management and right at your fingertips.