INTRODUCTION TO
BABY FORMULA
For some baby formula is essential, building blocks of new life. Then the need for more product availability had led to consumer desperation and the subsequent emergence of counterfeits and imitations of the brands we knew, deceiving shoppers into purchasing disingenuous products in place of the real thing.
But these are counterfeits with similarities in product casing only, it is not the same product. The formula that you would be feeding your baby wouldn't have had the same rigorous regulations in order to keep your baby safe and healthy.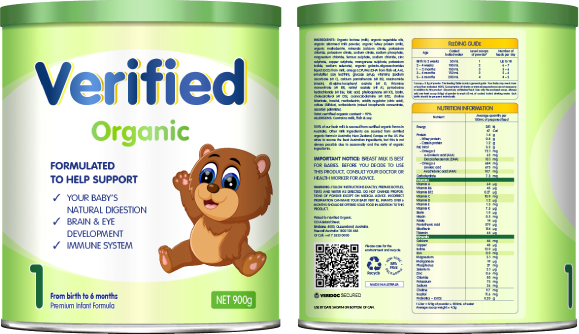 HOW DOES THE
SOLUTION WORK

By using a QR code reading app on any smartphone, customers can scan the QR code on the item, and receive the necessary information and in this case make absolutely certain you have the right product and formula.
It can also add time and location stamps along with any additional information such as batch numbers for product recalls, ingredients list, and recommended dosages for babies. Essential information at your fingertips.
WHY IS THIS
GOOD FOR YOU?
With blockchain technology and development available in our hands, we can make certain the health and well-being of our children are protected, making sure they receive the nutrition they need to grow up happy and healthy. Eliminating counterfeits and frauds in the process.