INTRODUCTION TO
PNG PASSPORT
We are looking at a PNG Passport that has added blockchain technology and VeriDoc Globals' finished solution. Security is at the heart of the solution but it requires no new hardware or software to run. PNG passports are well sort after and this solution looks at stoping fraud and securing your identity.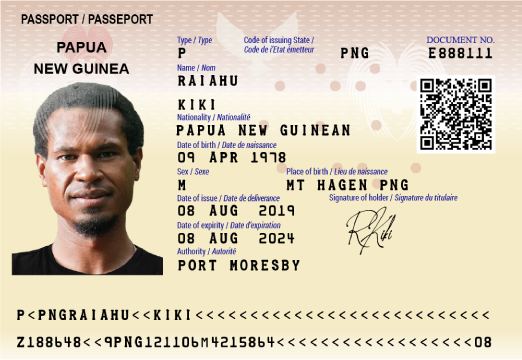 HOW DOES THE
SOLUTION WORK

VeriDoc Global has developed a finished software solution to tackle all kinds of document fraud and help everyone verify whether their document is real or fake. Just by adding a VeriDoc Secured QR code to all passports, anyone with a QR code reader on their smartphone can quickly verify a passport within a few seconds.
This means that you do not require or need any special equipment or expensive hardware to use this fantastic solution. Anyone can find out if a passport is fake or not, at any time or place with the VeriDoc Global App.
WHY IS THIS
GOOD FOR YOU?
It stops passport fraud in its tracks, the blockchain technology prevents the data and the QR code from ever being changed or removed. You can check it yourself with any smartphone. The VeriDoc Global app also comes preloaded with Change of State (CoS) technology. This allows document issuers and countries the ability to control and view all changes relating to a passport. Security and data management it's a focus, along with ease of use.