INTRODUCTION TO
INTERNATIONAL HEALTH CARE CARD
VeriDoc Globals Solution and technology delivers real time Proof of Provenance and Authenticity to all data and records related to patients using their International Health Care Card. Anyone who receives medical treatment for symptoms of the Coronavirus (COVID-19), Influenza, Ebola or MERS viruses or any other treatments would be added to their Internation Health Care Card.
With the International Health Care Card, World Health Organization, United Nations, Governments, medical authorities and statutory bodies will have access to all medical treatments for any of the patients with real time data and traceability with GPS Tracking.
Alerts could be placed on these cards if travel restrictions are in place, along with any other important information. VeriDoc Globals Solution enables health authorities and governments to track all treatments, but more importantly with the Coronavirus, Ebola, MERS and Influenza viruses it will give these organizations the ability to monitor in real time, treatments and movement of people in these regions affected by these viruses with the use of the International Health Care Card.
Security is paramount, with all data and records stored on the data systems of the reclevant health organizations and relevant authorities using the VeriDoc Global Secured Solution.
VeriDoc Global will not store any data or records.
When a patient goes to his Doctor or hospital, the assigned medical staff scan the QR Code on the International Health Care Card and this then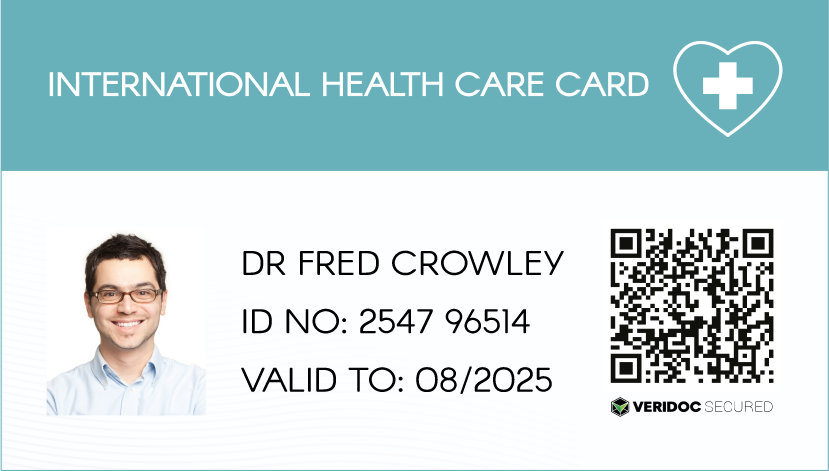 gives the medical staff access to the medical history on that patient. This event is registered on the data records of that patient, all logins to these health care cards are time stamped and GPS location recorded.
Medical staff can add images, genomics and medical data and reports in real time to the patients history on the blockchain network.
The Doctor can view updated data and add final recommendations or treatments administered to the patient.
It's an elegant and needed solution, and with todays climate VeriDoc Global wants to build trust and help those who need it most.
HOW DOES THE
SOLUTION WORK

With all of the past improvements and developments to be able to track health services provided to individuals, there is still the underlying issues of not having an immutable system to track the movement of people and real-time access to data for patients stored in a central single version of authenticity. VeriDoc Globals Solution is able to provide immutable ID Health Care Cards for all.
The entire family can have their Medical IDs for life. Which are updated every time they have treatments or visit medical services. These ID cards can be linked to National ID, Passports, schooling, careers and more. Providing time-stamped and GPS Locations every time the card is scanned and treatment is given.
WHY IS THIS
GOOD FOR YOU?
VeriDoc Globals identity and tracking management solution delivers data security and added value increasing the efficiency and distribution of services globally. The flexible, steadfast multiuse solution is specifically designed for health care services to streamline identity data management, authentication of individuals and services provided, allowing real-time proof and traceability, for all concerned departments and healthcare organizations worldwide.VeriDoc Global delivers a blockchain solution that integrates with existing databases, using Distributed Ledger Technology, (DLT) delivering a single source, end to end verification and authenticity system associated with personal health care identities, the diagnostics and vaccine data management of patients worldwide.