AVIATION CARD
INTRODUCTION TO
If you are going to be flying then you will at some point need an Aviation Card. It is a dream for some and others just a job. But the Aviation card is similar in a driver's license and also just as important. The difference is that combined with blockchain technology and software we are able to improve upon what has been used in the past. The blockchain software-based solution focuses on security and data integrity.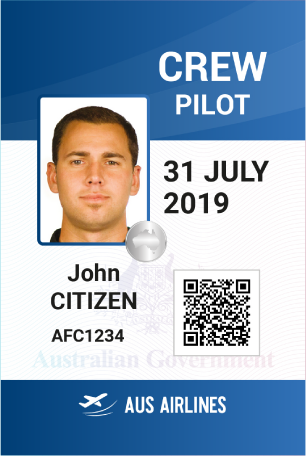 HOW DOES THE
SOLUTION WORK

When a QR reader is used to scan the QR code on the ID card, which can be scanned by any smartphone on the market, the system looks at the unique hash and then checks the hash on the blockchain. The software verifies that the hash exists on the blockchain and then displays the original ID that is linked to the hash.
The ID of the person standing in front of you and the contact details for who they work for and any relevant information about them. It's quick and efficient and requires no extra hardware or software.
WHY IS THIS
GOOD FOR YOU?
It brings added security and peace of mind for starters. The VeriDoc Global blockchain technology prevents the data and the QR code from ever being changed or removed, and you can check it yourself with any smartphone or QR scanner. This can eliminate ID fraud and save time and cost.