INTRODUCTION TO
CERTIFICATE OF TITLE
When a purchaser seeks to buy property today, he or she must find and secure the title and have the lawful owner of the property then sign it over. This seems simple on the surface, but it rarely is and it's all about the details.For a lot of residential mortgage holders, flawed paperwork, forged signatures, and defects in foreclosure and mortgage documents have made proper documentation of property ownership difficult or sometimes impossible to prove. VeriDoc Global has a solution that can do something about this.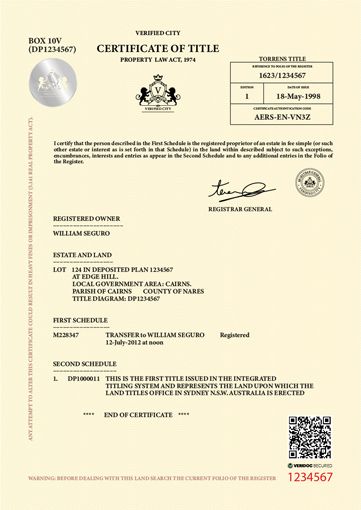 HOW DOES THE
SOLUTION WORK

Using any QR code reading app, scan the QR code on the land title and the app will show you the true document produced by the issuer. This allows you to compare and see if the land title is an original or a fake. Our solution allows you to verify that the land deed you are looking at is the true and correct deed.
It aims to secure land rights as well as eliminate the ability for fraudsters to create duplicate land titles that can be sold to another party.
WHY IS THIS
GOOD FOR YOU?
Fake land titles are usually copies of genuine land titles made by unauthorized persons. Currently, there is no way of quickly verifying if the land title you are looking at is a true and correct document. With graphical editing tools readily available, editing a document has never been easier.VeriDoc Global has a solution that can solve this problem right now. Our solution will make the governance of land registration the simplest and most corruption free, and as secure as possible.