INTRODUCTION TO
EMPLOYEE ID DATA
VeriDoc Global has a solution that benefits both the Employee and the Employer. Using an ID card with a QR code that is linked to Employee data there can be a complete history of work/login and log out that saves time and money and provides a trustworthy history of work.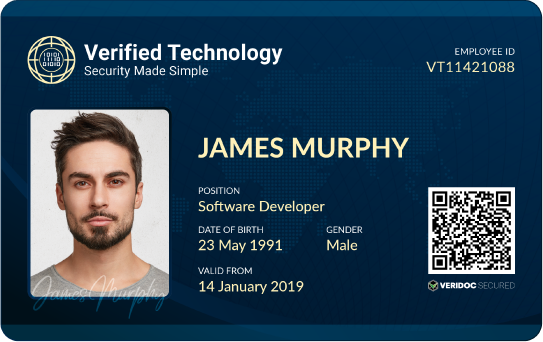 HOW DOES THE
SOLUTION WORK

Employees use their personal mobile device with two-factor authentication (2FA) to clock in and clock out, so that colleagues can't clock in on their behalf.
Time and location stamps on the blockchain are immutable, providing a trustworthy audit trail if timesheet records need to be inspected or have on hand by simply scanning the QR code, provided your have the correct permissions.
WHY IS THIS
GOOD FOR YOU?
Employers save time and money lost each year due to timesheet fraud and employees have an easy and quick method of clocking on to their timesheets and seeing a record of all their hours worked. Transparency and trust with blockchain software.