INTRODUCTION TO
DRIVERS LICENCE
If you don't have one, you know what one is. Most of our lives a lot of us have aspired to have a driver's licence. It represents freedom, and also recognized as a form of legal identification that is accepted everywhere. It is one of the most important IDs that we will ever own. But as our world changes, soon this as well will be digital. Let's look at how a Drivers's licence will be different when strengthed with a finished blockchain solution.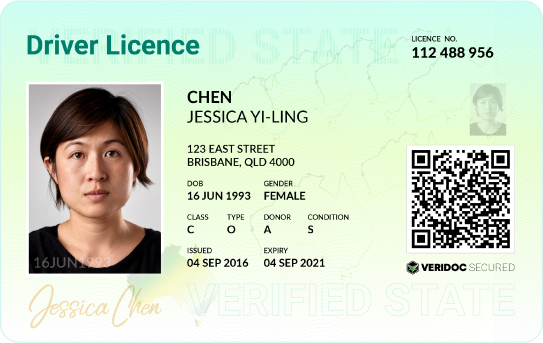 HOW DOES THE
SOLUTION WORK

The blockchain software allows for VeriDoc Global to customise the storage of necessary information on a blockchain network and tailor permissions and access for the Issuer. The usual roadblocks like moving states isn't an issue as it comes with Change of State Technology (CoS).
COS Technology can be used by scanning the QR code with a registered device, then adding time and location stamps along with any additional info, such as insurance, registrations, and emergency contact information. Saving time, cost and added security.
WHY IS THIS
GOOD FOR YOU?
VeriDoc Globals blockchain software and development will change the way we secure and protect information for the better and as more people come to terms with the acceptance of going digital, VeriDoc Global will be uniquely placed to provide a bridge between. The solution not only gives us a digital options but VeriDoc Global can also secure the physical licence itself. The purpose of the technology is to prevent information from becoming doctored or falsified in any way.