INTRODUCTION TO
BANK STATEMENT
Technology has become an enormous part of the banking world, and has changed the way people bank making the ability to bank more convenient, but also opening the door for more discrepancies. With digitalization, these institutions rely heavily on technology to help secure platforms with which the everyday banker uses on a daily basis, technology is essential to protect these digital transactions. Let's take a look at this Bank Statement.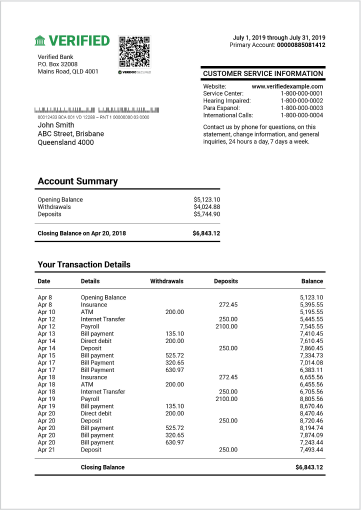 HOW DOES THE
SOLUTION WORK

VeriDoc Global solutions allows all the information you could possibly need permanently logged to that account and statements. Tracking, traceability for the life of the account.
The same technology currently in use and accomplished for fraud prevention and its many successes could also be applied to the banking industry. VeriDoc Global's reliable proven patented solution is just the right fit.
WHY IS THIS
GOOD FOR YOU?
The benefits for banks of utilizing blockchain tech are much the same as for individual loan providers, but perhaps even more useful for larger institutions, as they can streamline and optimize their operations and costs. Blockchain naturally connects all parties on a system, so the customer would be linked directly to the lending institution, with full transparency and a real-time view of finances on an immutable ledger. Savings costs and time.