INTRODUCTION TO
WINE
We've known what wine is for centuries, but a more modern challenge is wine fraud, which has only become more sophisticated. It can refer to the meddling or making changes to a cheaper wine to make it taste more expensive. Such as using an additive to create a 'vintage' wine feel in both taste and appearance to fool the prospective buyer. Essentially if you've bought a wine that's been sold based on false attributes and qualities — whether it be brand, taste, vintage, location, or price, then it's considered fraud.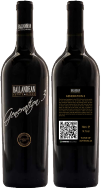 HOW DOES THE
SOLUTION WORK

Using VeriDoc Globals verification protocol and secured QR codes, encryption algorithms and unique hash values, we are able to use blockchain to check that the wine you've purchased is authentic. It also shows you a picture of the bottle of wine, along with information and details on the batch and how it was produced.
Tou can now see the record of everyone that has scanned the QR code and see for yourself how this technology can and is being used right now.
WHY IS THIS
GOOD FOR YOU?
With VeriDoc Global technology providing the leading edge when it comes to countering counterfeit wine. With fraud in the global food and wine industry costing billions of dollars every year, it has become a priority to find new ways to solve the problem and we believe we have that solution covered at VeriDoc Global.