FMW Media Works Corp. Announces VeriDoc Global on "Exploring The Block" & "New To The Street" Filming Schedules for October 2018
31 Oct 2018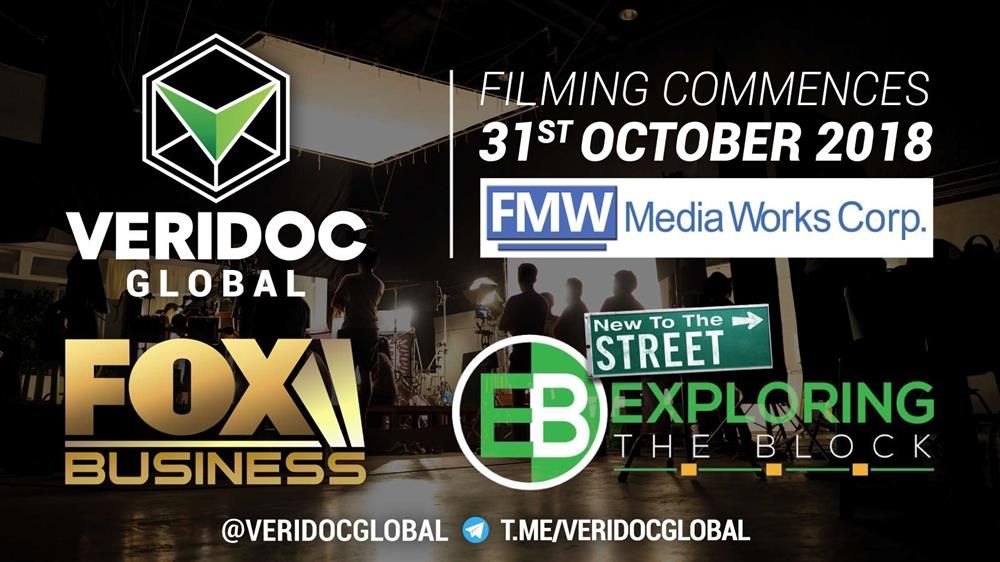 October 30, 2018 12:00 ET | Originally Published: NEW TO THE STREET
NEW YORK, Oct. 30, 2018 (GLOBE NEWSWIRE) - FMW Media Works announces its October 2018 TV broadcasting and filming schedules for both "Exploring The Block" and "New To The Street" business TV shows. Each show interviews new and returning clients who discuss their business operations and products.
OCTOBER 31, 2018, "NEW TO THE STREET" and "EXPLORING THE BLOCK" STUDIO LINE-UP
The following interviews of CEOs and their companies for filming:






Sabr Coin




IziFinance



Gapro System | ICO



Vectorspace AI | Context-controlled NLP & Feature Engineering


MyElder | Placing Your Loved One's Needs First | Home



MySmartProperty – A better way to buy and sell Real Estate


Daily Fantasy Sports for Money - Draft Day


Boliecoins




The UXM






"New to the Street" and "Exploring the Block" televised broadcasts on the Fox Business Network reaches up to 100 million homes. Check your local cable provider's channel lineup to find Fox Business Network in your area.
About "NEW TO THE STREET" TV
FMW Media Works Corp.'s "New To The STREET" is a leading provider of business profiles and special corporate sponsored programming. FMW Media Works produces "NEW TO THE STREET" which paves the way to the latest financial issues, offering a blend of business and financial services news reporting and in-depth interviews relating to new products, economic analysis, and public company profiles. "NEW TO THE STREET" airs as paid TV programming and airs in the United States reaching potentially 100 million homes Visitwww.NewToTheStreet.com.
About "Exploring the Block" TV
FMW Media Works Corp.'s Exploring the Block" show's goal is to showcase, question & explore companies changing the way the world uses data and security using "Blockchain Technology." The show aims to create a platform to learn about the opportunities and advancements brought about by the invention of "Blockchain." Through uncovering and interviewing companies utilizing "Blockchain" technology, the shows producers' hope to explore the potential impact this technology will bring to society. FMW created this program, "Exploring the Block, to provide viewers the most up to date news and insight into this new frontier in "Blockchains."
Forward-Looking Statements Disclaimer: This press release contains forward-looking statements within the meaning of Section 27A of the Securities Act of 1933, as amended, and Section 21E of the Securities Exchange Act of 1934, as amended. In some cases, you can identify forward-looking statements by the following words: "anticipate," "believe," "continue," "could," "estimate," "expect," "intend," "may," "ongoing," "plan," "potential," "predict," "project," "should," "will," "would," or the negative of these terms or other comparable terminology, although not all forward-looking statements contain these words. Forward-looking statements are not a guarantee of future performance or results, and will not necessarily be accurate indications of the times at, or by, which such performance or results will be achieved. This press release should be considered in light of all filings of the Company that is contained in the Edgar Archives of the Securities and Exchange Commission at www.sec.gov.