VeriDoc Global Director Vik Reddy Attends LegalWeek 2020.
12 Feb 2020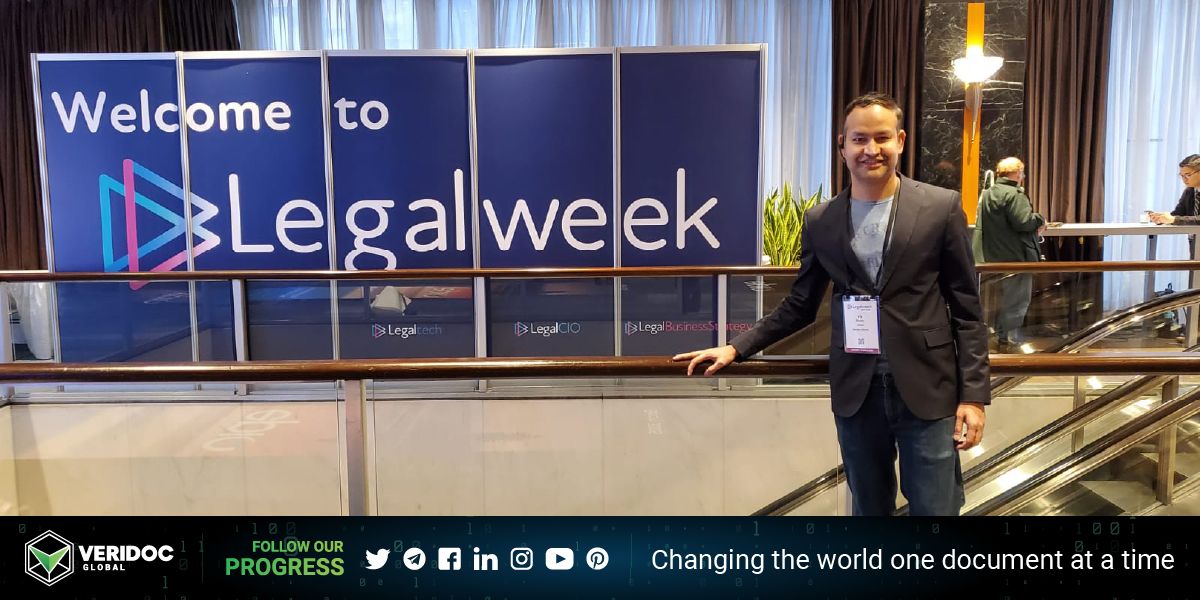 VeriDoc Global Director USA Vik Reddy attended Legalweek 2020. It features workshop boot camps, networking events, hundreds of exhibitors on the tradeshow floor and three conferences designed to address key issues at a functional level: LegalCIO, Legal Business Strategy, and Legaltech, the world's largest and longest-running trade show for legal technology.
For the first time, there was a great emphasis on blockchain in the legal conference on such a large scale with VeriDoc Global earning a lot of interest from top firms that have the Legal CLMS (Corporate Legal Management System) / ELM(Enterprise Legal Management) Solutions. They could correlate the blockchain advantages and capability of VeriDoc Global, and how it's possible to make their systems robust and also protect the document offline too. By storing the document on blockchain and attaching a QR code. VeriDoc Global makes sure that the user is always seeing the true and original document. Also, this feature enables the sharing of only the QR code instead of the entire document, protecting sensitive data and then only allowing eligible recipients with correct credentials to view the document, thus avoiding any digital data breach. VeriDoc Global has achieved similar security enhancements to the Docusign system.
Moving forward VeriDoc Global sees great growth in the legal sector and attending LegalWeek 2020 was a great success.
VeriDoc Global, changing the world one document at a time.