VeriDoc Global has Announced Partnership Agreement with DocuSign
01 Jan 2019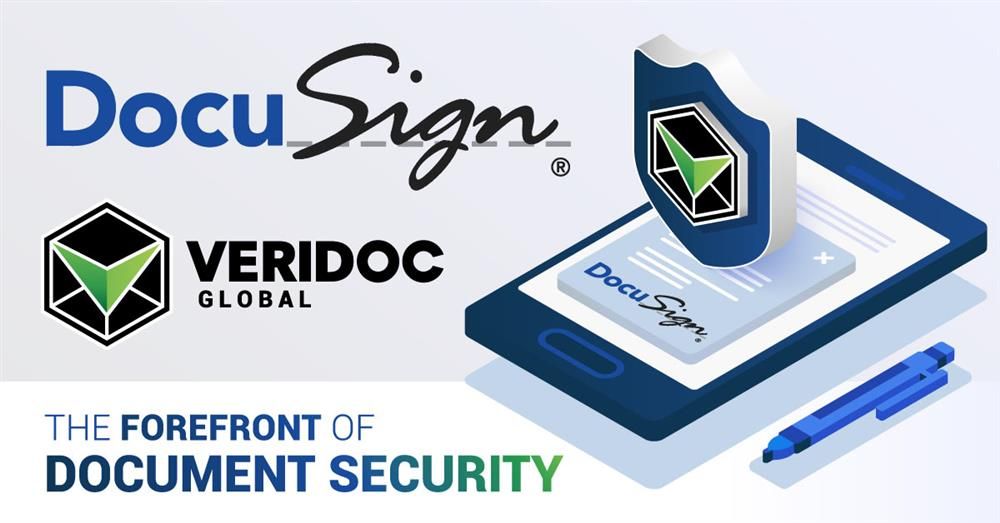 VeriDoc Global and DocuSign have officially formed a partnership to enable governments and businesses worldwide to utilise DocuSign's digital signature service, secured by VeriDoc Global's document verification software.
Read the full story from DocuSign here.
Highly recognised and used in healthcare, real estate, pharmaceutical companies, and governments, DocuSign provides an electronic signature technology service that allows users to receive a digital contract, agreement or document and then sign it using an e-signature.
The partnership will provide DocuSign customers with the option to have evidence of a DocuSigned agreement or contract secured using VeriDoc Global's encrypted verification software. This will benefit DocuSign users by, not only securing the entire document in transaction, but also being able to instantly verify that the document has not been tampered with, before they DocuSign it.
How this works is a user will scan a QR code on a document secured by VeriDoc Global using any QR code reading app, who will be able to instantly verify on blockchain whether that document is true and correct. Once the user verifies that document, they can confidently DocuSign it. Following that signature, VeriDoc Global's API automatically updates the new unique hash value onto the blockchain so that it can be verified without any chance of it being tampered with.
Since VeriDoc Global's protocol is highly geared towards preventing document fraud and counterfeits, this option will be an alternative to the company's native system for verifying signatures and is poised to be a natural fit for customers who want to have evidence of their agreements in a neutral environment.